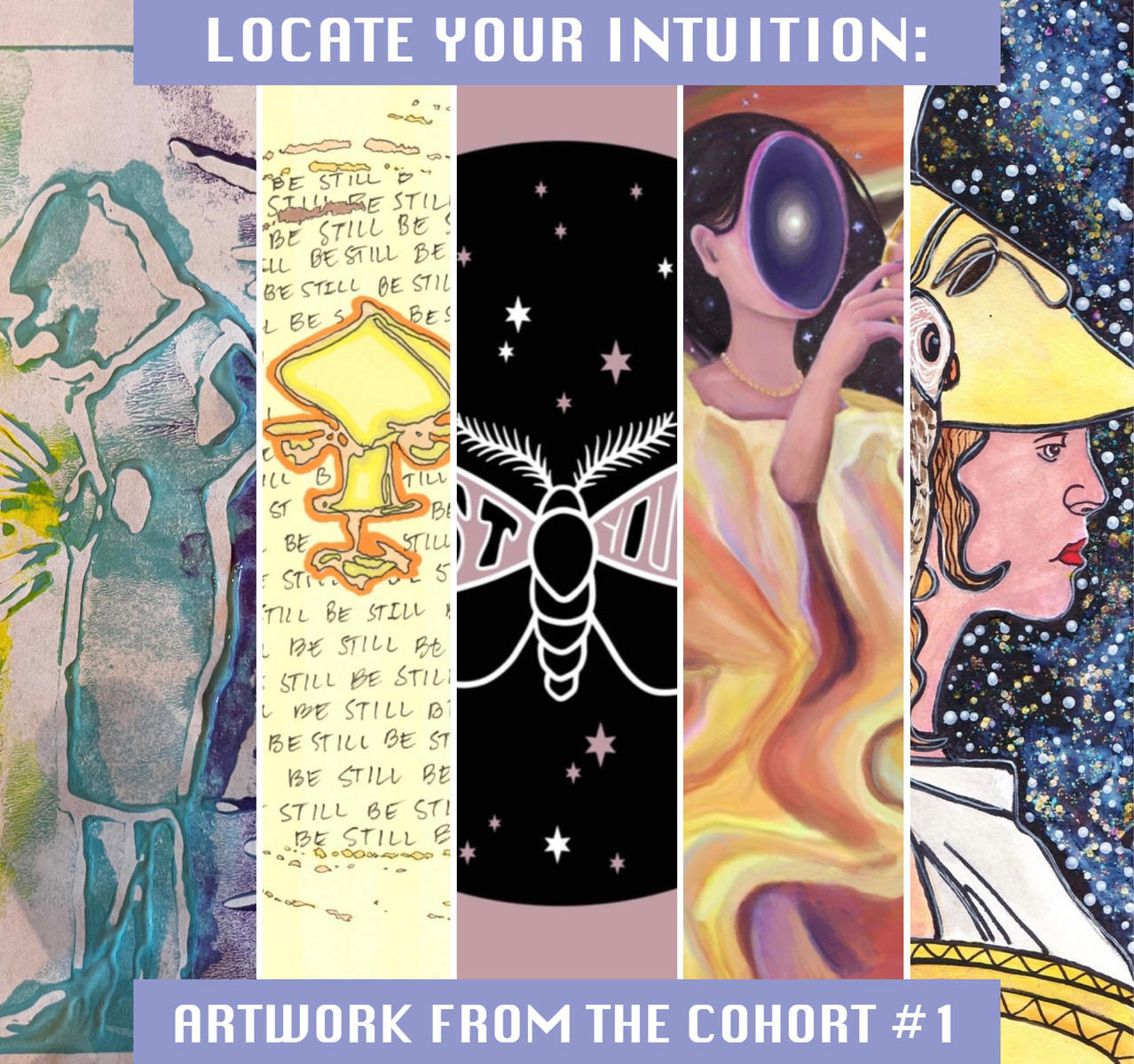 ALAS! The artwork of five amazing artists who participated in the first-ever LOCATE YOUR INTUITION workshop, my six-week, tailored-to-you online course that guides you in discovering and developing your own intuitive gifts. This cohort was special; not only because it was the first one ever, but because everyone who signed up had an expressed interest and talent in art. Here are some examples of the art they unearthed within themselves (there were no art assignments, just pure creative drive).
I am so grateful to all these women who put their trust in me and, more importantly, the trust in themselves. Yall rule and ILY! If you want to join the next cohort and unearth your gifts (artistic or OTHERWISE!), sign up today.
ATHENA BY ALI SULLIVAN ; "This is Athena, because I felt intuitively called to paint her, and I didn't question why, and when I looked up her symbolism after creating her, I realized her energy is one of my guides. I resonated with her energy of being an artisan while also being a fierce warrior, and child-free, yet a mother to her community." FIND MORE OF ALI'S WORK HERE.
BY EMILY BEIN: This was a hard one to pick for me - since I have been processing almost everything through my art! This one in particular stood out though - as I remember it being a breakthrough moment for me. I drew this in a meditative state during the beginning of the course when I was just starting to become more vulnerable. The colors, face, and movement within the work definitely reflects my spiritual nature. A few days later I realized that it connected perfectly to a painting I made several years ago that was also a breakthrough moment for me at the time. It was then that I realized the correlation between the two pieces of art and how I have grown as an artist/person. The painting I did several years ago was how I viewed my anxiety and how it overtook my life. Using the same colors, style, and movement in the art I made during this course with more detail shows how I have overcome my anxiety which in return helped me unlock a whole new part of me I never knew could exist." FIND MORE OF EMILY'S WORK HERE.
"I made this immediately after our class today and it's possibly one of the most accurate self-portraits I've ever made. Thanks for an incredible class!"
CHECK OUT MORE OF GRACE'S WORK HERE.
PHOTOS BY BECCA MITSOS. Find more of her work here.
"This is the first artwork I have made "just because" in probably 10 years. I made it quickly and without expectation. I made it soon after our first meeting where we went over goals for the course and felt compelled to draw it for some reason. Seeing your shirt with "trust your gut" on it during our last lecture, gave me chills and made me realize that I actually made this artwork for a reason after all: it was a reminder to myself and to my future self that trusting your gut actually leads you to exactly where you need to be." Find Rachel's commissioned work here.
Join cohort #2 right here on my website. I can't wait! Class starts April 11.